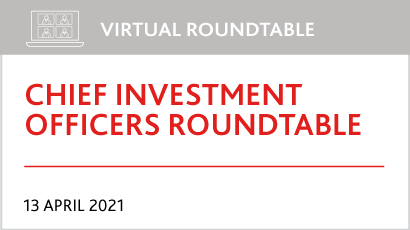 Event Information
The Chief Investment Officers (CIO) Roundtable is a platform for The Geneva Association's CIO Network to discuss issues and trends that impact insurance asset management and the implementation of investment strategies.


The CIO Roundtable will take place virtually on
Date: Tuesday, 13 April 2021
Time: 14:00–15:00 CEST / 8:00–9:00 EDT
This conference is by invitation only. Interested participants can contact conference@genevaassociation.org to inquire about attending.
Rethinking Core Fixed Income in an Era of Negative Real Yields
Core fixed income is the foundation and mainstay of the insurance portfolio, allowing insurers to invest premiums, make steady risk-adjusted returns, and produce the consistent returns on capital prized by the industry and its shareholders.
However, traditional portfolios are challenged in the current environment. Low or even negative yields make it uneconomic for many insurers to till the same soil. Even where returns are positive, they are often disappointing.
Raising portfolio yields is a growing priority, but this must happen in a careful, risk-adjusted way to avoid impacting balance sheet and earnings volatility, not to mention the all important credit rating. This means thinking outside the box. Moving down the credit curve and into different geographies, the inclusion of private assets and infrastructure in insurance portfolios, and the use of equity-like strategies are all becoming more common. ESG investments also offer new opportunities to address important issues like climate change and social inequalities.
The face of core fixed income is evolving in light of new challenges. Join us as we discuss and debate what insurers are doing today to adapt their portfolios.
14:00–14:10
Welcome and introduction
Bob Swarup
Director, CIO Network
The Geneva Association
14:10–14:25
Opening views
14:25–14:55
Roundtable discussion
Moderated by Bob Swarup
14:55–15:00
Closing remarks
Bob Swarup