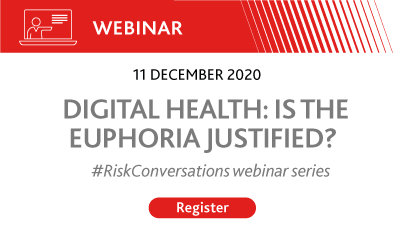 Event Information
Friday, 11 December 2020
15:30–16:30 CET / 9:30–10:30 EST
On the eve of Universal Health Coverage (UHC) Day, join us for a look at the key findings of our upcoming report, Digital Health: Is the euphoria justified?, on the role of insurers in scaling up digital health solutions, followed by a discussion on how digital health can support healthcare for all.​
Speakers
The United Nations proclaimed 12 December as UHC day – a day dedicated to voice and action to advance the need for fair and quality healthcare for all by 2030. Yet vast amounts of healthcare needs are unmet and over half the global population still lack access to basic health services. As many as 100 million people are impoverished annually because of out-of-pocket payments for healthcare. All of this, coupled with the ongoing pandemic, rise in chronic illnesses and squeezed public budgets, means that health needs are unlikely to be met solely by a bricks and mortar health system.
Digital health is seen by many as a solution, able to accelerate access to affordable care and services from both providers and payers like insurers. The pivot towards digital health during the COVID-19 pandemic has been remarkable, but will it really help to advance the UHC agenda?
The webinar will address the following questions:
What does the mass market for digital health offer and is the market easy for users to navigate?
What do we know about the effect of digital health on health behaviour and outcomes?
How can insurers add value in implementing digital health solutions at scale?
What are the opportunities for using digital health as a coherent tool to achieve UHC and what steps are academics and insurers taking to harness them?
This event is part of our #RiskConversations webinar series.