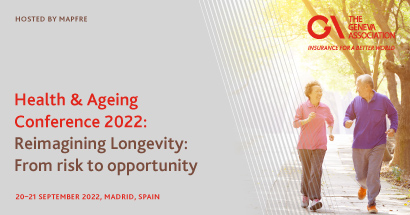 Event Information
The Geneva Association's Health & Ageing Conference, generously hosted by MAPFRE, will be held 20-21 September 2022 in Madrid, Spain.
This event is by invitation only. If you are interested in attending, please contact Maria Berezikova, Event Manager, at events@genevaassociation.org
Average global life expectancy has risen by six years in the past two decades alone and stands at 73.3 years. By the end of this century it is projected to rise by another eight years to 81.7, with some experts suggesting that babies born in Europe today can expect to live to the age of 100. Irrespective of which projections we go by, one thing is clear: longevity is no longer a risk, but a clear-cut and predictable experience for most. If harnessed carefully, it can be a powerful source of economic growth, but the rhetoric of ageing has been far too gloomy.  With the global population pyramid turning upside down, now more than ever, ageing has to be redefined to make way for a powerful and positive societal and economic transformation. This conference is about seizing the moment by putting a multisectoral lens on ageing and how insurers can rise to the challenge.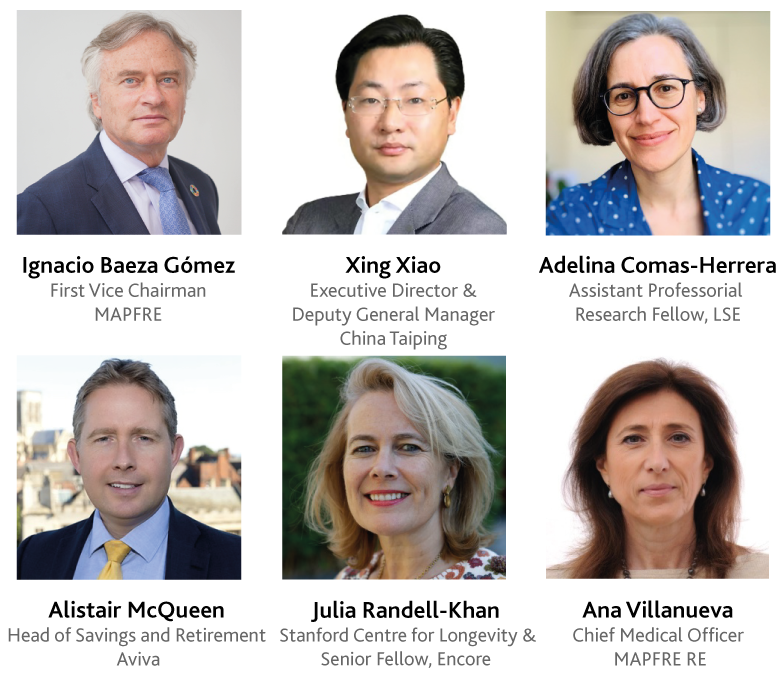 The conference will be moderated by Adrita Bhattacharya-Craven, Director Health & Ageing, The Geneva Association. 
Tuesday, 20 September 2022
9:30–10:00  Registration and welcome coffee
10:00–10:10  Opening remarks
Jad Ariss, Managing Director, The Geneva Association 
10:10–10:30  Welcome from the host
Ignacio Baeza Gómez, First Vice Chairman, MAPFRE
10:30–11:15  Moderated interview: Reframing Longevity – It is a certainty, not a risk
Speaker: Julia Randell-Khan, Consulting Fellow on the Inter-disciplinary New Map of Life, Stanford Centre for Longevity; Senior Fellow, Encore; Director, The Purpose Xchange, The Age of No Retirement
Moderator: Torsten Kleinow, Professor, Faculty of Economics and Business, University of Amsterdam
11:15–11:45 Coffee break
 
Part I: The Longevity Landscape
11:45–13:00  Session 1: From Pandemic to Endemic? Impact on longevity, health and social care
Chair: Matt Singleton, Global Life & Health Product Innovation Manager, Swiss Re
Confirmed panellists: 
Nicola Oliver, Director of Life & Health, Medical Intelligence
Adelina Comas-Herrera, Assistant Professorial Research Fellow, Care Policy and Evaluation Centre (CPEC), LSE
Stuart McDonald, Head of Longevity and Demographic Insights, Lane Clark & Peacock
13:00–14:15  Lunch
14:15–15:30  Session 2: Exploring Longevity Through an Economic Lens
Chair: Mike Mansfield, Project Manager, Research Centre for Longevity Risk
Confirmed panellists: 
Yvonne Sonsino, Global Co-Leader Next Stage, Mercer (V) 
Juan Fernández Palacios, Director of Ageinomics, Fundación MAPFRE 
David Sinclair, Chief Executive Officer, International Longevity Centre 
15:30–16:00  Coffee break
 
Part II: The Longevity Opportunity
16:00–17:15   Session 3: Understanding the Opportunity for Insurance and Preparing the Ground
Chair: Lukas Junker, Advisor to Board Member, Allianz
Confirmed panellists: 
Joaquín de los Reyes, Senior Generation Program, MAPFRE
Roger Peverelli, Co-founder, Digital Insurance Agenda
20:00–22:00  Dinner (location to be confirmed)
Wednesday, 21 September 2022
9:15–9:40  Welcome coffee
9:40–10:00  Opening Keynote
Xing Xiao, Executive Director & Deputy General Manager, China Taiping
 
10:00–10:45  Challenging Ageism 
Speaker: Andre Belelieu, Head of Insurance, Asset Management, and Institutional Investors, World Economic Forum 
Moderator: Adrita Bhattacharya-Craven, Director Health & Ageing, The Geneva Association
10:45–11:15  Coffee break
 
Part III: Longevity: The 'so what'
11:15–12:30  Session 4: How Should Insurance Evolve to Support Longevity?
Moderator: Adrita Bhattacharya-Craven, Director Health & Ageing, The Geneva Association
Confirmed panellists: 
Ana Villanueva, Chief Medical Officer, MAPFRE RE
Sandrine Coulange, Chief Health Officer of the European Markets, AXA
Alistair McQueen, Head of Savings and Retirement, Aviva
Arne Holzhausen, Global Head Insurance, Wealth and Trend Research, Allianz
12:30–12:45  Creating the right policy environment
Sergio Álvarez, Director General for Insurance and Pensions Funds at the Directorate General Insurance and Pensions Funds (DGSFP), Spain
 
12.45–13.00  Closing remarks
 
13.00–14.30  Closing lunch
We have made block reservations for the night of 20 September at the following hotels:
NH Collection Colon
Book here or contact the hotel at congress@nh-hotels.com
Booking reference: MAPFRE MB0002905038
Double room: € 205 + VAT
XL double room: € 230 + VAT
NH Suecia
Book here or contact the hotel at congress@nh-hotels.com
Booking reference: MAPFRE MB0002962077
To take advantage of these special rates, please book your room by 11 August 2022.
Cancellation policy
Until 15 days before arrival: no penalty.
Between 14 and 7 days before arrival: the hotel will charge the first night of the reservation.
Within the last 6 days before arrival or no show: the hotel will charge 100% of the reservation.
Event Location
Venue:Fundación MAPFRE
P.º de Recoletos, 23
28004 Madrid
Spain
Health & safety measures: 
To ensure the safety of in-person attendees, the event will closely observe all recommended government guidelines in Spain in place at the time of the event. Click here for the latest travel policies for Spain.