Hosted by State Farm Insurance, 21-23 October 2019, Washington, DC
Consumer Litigation in the Digital Age – Conference Summary
By managing risk in areas like artificial intelligence (AI) and the sharing economy, insurers are fulfilling their role of reducing barriers to innovation and growth and allowing tools and services to come to market that benefit the public.
Insurance products should be adapted to reflect new risk profiles and appetites. Collaboration and agility will be essential for effective underwriting and claims. Insurers should build bridges internally as well as with clients to help make up for shortfalls in data and experience. Government bodies should prioritise unified insurance and legislative approaches and improve coordination across jurisdictions.
The Geneva Association's 15th Annual Liability Conference on 'Consumer Litigation in the Digital Age', held 21-23 October 2019 and hosted by State Farm Insurance in Washington, D.C., brought together experts from insurance and other industries to discuss these topics in depth.
Participants can click here to view all conference photos (login required).
The GA's Liability Conference is by invitation only. If you are interested in attending the 2020 conference in Zurich, Switzerland, contact conference@genevaassociation.org.
Jad Ariss, Managing Director of The Geneva Association, gives the welcome address
Session 1: Kevin Frederick, Counsel, State Farm Insurance; Lloyd Dixon, Senior Economist at RAND Corporation; and Ken Daly, Partner, Sidley Austin LLP
Session 1 on 'Global Litigation' explored opportunities and challenges in a globalised world to knitting together different systems of liability. The session was organized by State Farm Insurance.
Key Messages:
In the U.S., there is no mechanism for judges to address overlapping litigation with other countries, and limited coordination even across states.

The EU is making headway in facilitating access to justice for consumers and other litigants, removing barriers to sue and creating possibilities to consolidate suits in single jurisdictions.

In Europe, there is a prohibition on plaintiff law firms taking contingency fees. Instead, third-party funders are taking up cases on behalf of European plaintiffs. Litigation in Europe is driven almost exclusively by these entities.
What does this mean for insurers?
Insurance rates are based on historical loss patterns, and global litigation rules going forward will impact the ability to predict outcomes on an aggregate basis.

Insurers should start retaining counsel with different skill sets, e.g. those accustomed to working across jurisdictions.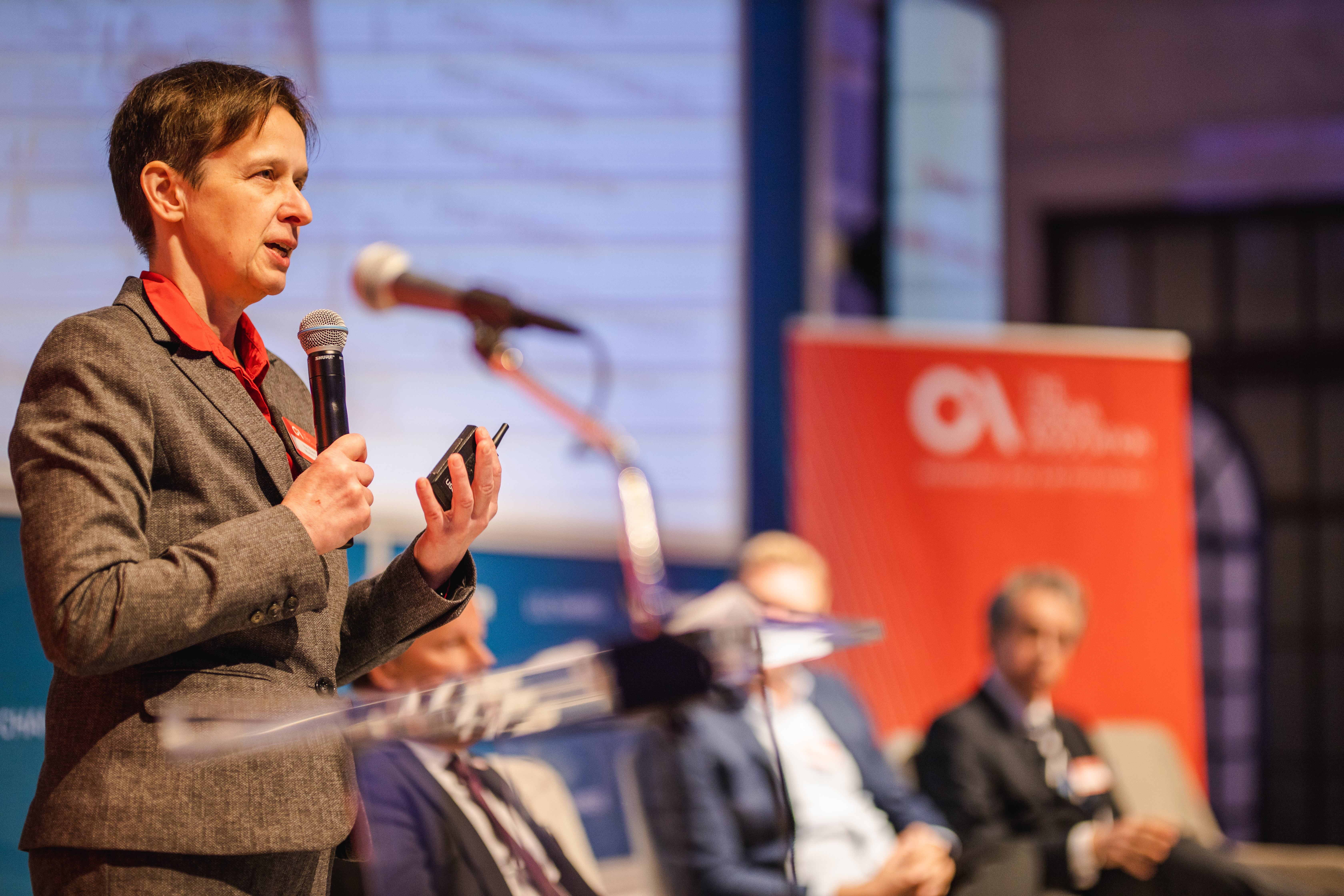 Session 2: Ina Ebert, Leading Expert Liability and Insurance Law, Munich Re
Session 2 on 'Liability for Artificial Intelligence – the European Approach' looked at the legal, ethical, cultural and insurance aspects of AI. The session was organized by Munich Re.
Key Messages:
Machines are now making decisions based on algorithms that may have ethnic, racial and gender biases embedded within them, thereby reinforcing those biases.

Europeans are working together to establish ethical standards. There's a wide variety of what's acceptable. AI is perceived as a 'black box'. Requiring 'explainability' – why machines make the decisions they do – is a new area of research and regulation.

A core problem is establishing a link between an outcome (damage) and a specific action (causality). Safety standards are needed to provide a basis for determining negligence and liability.
What does this mean for insurers?
Insurers must be thorough in their approach to AI, both as users and risk managers.

Insurance products need to be adjusted to reflect different risks (e.g. motor insurance for autonomous cars) and because AI cuts across different lines of business.
Session 3: Sarah Mims, US Head of Legal, AXA XL; Chris Kopser, AXA XL; Theresa Schlageter, AXA XL; Vikas Chhariya, AXA; and Curtis Scott, Lyft
Session 3 on 'The sharing economy' highlighted the need for better collaboration across states and countries to harmonise regulation, as well as between insurers and platforms to make the most out of available data and strengthen digital communities. The session was organized by AXA.
Key Messages:
The biggest challenges for insurers in the sharing economy are the tripartite relationship – platform- provider-consumer – and lack of historical data.

Although the U.S. and EU are fragmented in their approaches to sharing economy risk, all but one U.S. state have uniform legislation on insurance responsibilities in the ride-share context, and 42 major cities have agreed shared principles on how cities should regulate the shared economy.

To achieve adequate occupational accident cover for ride-share drivers, private market products purchased by the platform or driver may deliver the best outcome.
What does this mean for insurers?
Insurers need to create customized, flexible products, blending historical and real-time data for accurate loss projection and to set pricing. They must be adaptive and iterative to get it right.

Insurance solutions require collaborative relationships both inside the carrier (with underwriting, claims and legal teams) as well as between the carrier and the platform. Insurers should also be able to advise clients on regulatory challenges.
Read our interview with Curtis Scott, Vice President of Global Risk, Lyft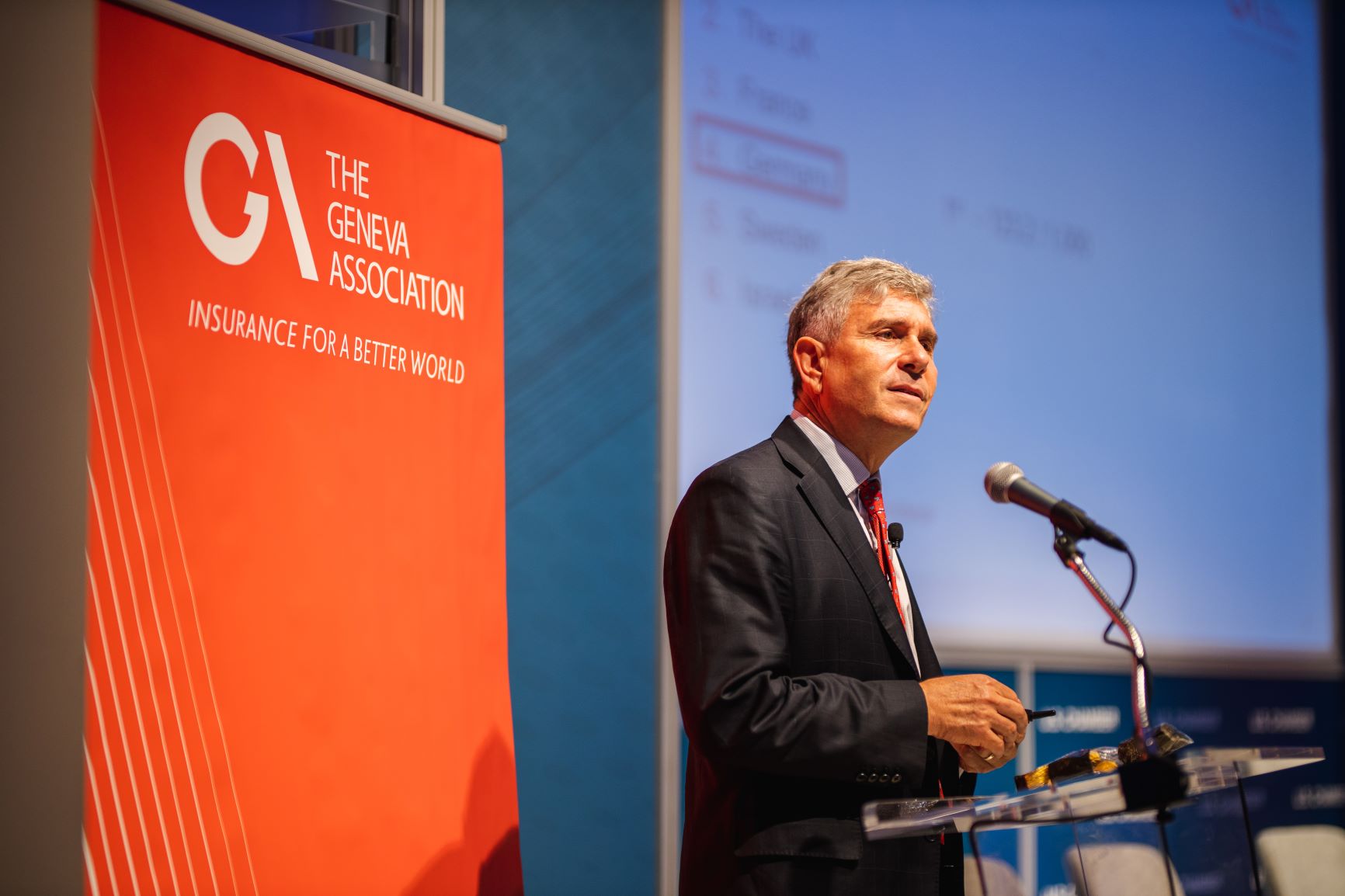 Ronnie Klein, Geneva Association Collaborating Expert, moderated the conference
Session 4 on 'The U.S. opioid crisis' offered an analysis of present opioid litigation and insurance best practices for underwriting and claims going forward. The session was organized by Swiss Re.
Key Messages:
The 'first tier' defendants in opioid litigation are 1) manufacturers for negligence, fraud, oversubscription, deceptive marketing; 2) distributors for failing to report suspicious orders; and 3) pharmacies for failing to report suspicious prescriptions and to warn of addiction, overdose or death.

Most claims are coming from towns, districts or municipalities rather than individuals. Due to multiple parties and complexity of issues, judges are pushing for settlements.

In some cases, judges have determined that defendants knew opioids were being distributed illegally; in others, they have determined users were sufficiently warned of potential harms.
What does this mean for insurers?
The extent of insurers' exposure will depend on whether they have a 'duty to defend' or 'duty to indemnify'.

Insurers should review their exposure, determine their new risk appetite and pricing, create exclusions and monitor developments (e.g. bellwether trials). Short-form exclusions include "illegal use, unlawful distribution, abuse …"; long-form exclusions add for use in a clinical setting.
Keynote by Dr. Robert Reville, CEO, Praedicat
The proportion of liability losses covered by the insurance industry varies by topic. For example
Tobacco companies have made US $350 billion in payouts, but due to insurance exclusions, there were no insurance losses. However, insurance losses related to asbestos claims total approximately US $100 billion, or 90% of total incurred losses.

Opioids claims bear more similarity to tobacco than asbestos, with estimated insurance losses from opioid cases between US $0-30 billion. The Society of Actuaries estimates that the total economic burden of the opioid crisis in the U.S. alone over 2015–2018 was US $631 billion.
Other emerging liability issues:
Antibiotic-resistant illnesses – 39,000 deaths per year; potential insurance losses – US $5-7 billion

Diesel / vehicle emissions – 58,000 deaths per year; potential insurance losses – US $14-20 billion

Sugar – 300,000 obesity-related deaths per year; potential insurance losses – US $30-132 billion
What does this mean for insurers?
Insurers should:
Factor possible sugar-related litigation into their underwriting strategies for food and beverage.

Assess the aggregation potential of emerging liabilities and adapt accordingly.

Consider taking up reinsurance for respective perils.