Event Information
The PROGRES Seminar is a forum for senior representatives of the insurance industry, regulators, standard setters, academics and NGO representatives to discuss key policy and regulatory issues facing the global insurance industry.
The 2022 PROGRES Seminar took place virtually on 3–4 March 2022, 13:00–16:00 CET each day.
PROGRES Seminar 2022
Transformative Forces in Insurance – The road ahead for insurers and regulators
The COVID-19 pandemic has given rise to or amplified a number of forces that are driving transformation within the insurance industry. Perceptions of risk have changed. Concerns over climate change and the need to transition to a net-zero economy have intensified, throwing up both risks and opportunities for insurers. The shift towards digitalisation and artificial intelligence (AI) are transforming traditional insurance business models and presenting regulatory challenges. Finally, concerns about the persistent low interest-rate environment are compounded by sudden high inflation – raising questions about the pace and increments with which interest rates should rise.  
This year's PROGRES Seminar convened insurers, policymakers, regulators and supervisors to shed light on the implications of these key issues for the regulatory community, insurers and their customers.
We were especially honoured to welcome Christian Mumenthaler, CEO of Swiss Re and Chairman of The Geneva Association; Denis Kessler, Chairman of SCOR; and Victoria Saporta, Chair of the IAIS, as speakers at this event.
Biographies of all keynote speakers and panellists in the 2022 PROGRES Seminar are available in the Speaker Biography booklet.
Thursday, 3 March
13:00–13:05
Welcome remarks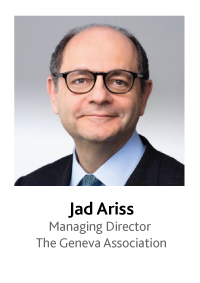 13:05–13:15
Opening address 
13:15–13:20
Agenda and housekeeping
Dennis Noordhoek, Director Public Policy & Regulation, The Geneva Association
13:20–13:45
Keynote speech: Getting through the pandemic – Lessons learned for future regulation
13:45–14:45
Panel 1: Risk Perceptions Post-COVID-19–Insurer and regulator views on emerging trends
The International Association of Insurance Supervisors (IAIS) recently identified the low-yield environment, increased private equity ownership, credit risk and cyber risk as core macro themes in their Global Monitoring Exercise. This session will discuss the way insurers and regulators view risks post-pandemic, how these risks are driving insurers to change their business models, and their interaction with global prudential regulatory initiatives such as the Insurance Capital Standard (ICS).
14:55–15:55
Panel 2: The Path to Net Zero – Risks and opportunities for insurers, and the important role for policymakers and regulators
Expectations on the role of the insurance industry in the transition to net zero are increasing. Consistent, well-aligned, conducive public policies and regulatory frameworks will help facilitate insurers' capacity to support and incentivise the transition, which itself comes with new risks. This panel will review these risks and opportunities and assess what is needed for a well-planned, whole-of-economy approach to achieving net-zero targets.
15:55–16:00
Closing remarks
Dennis Noordhoek, Director Public Policy & Regulation, The Geneva Association
Friday, 4 March
13:00–13:05
Opening remarks 
Dennis Noordhoek, Director Public Policy & Regulation, The Geneva Association
13:05–14:10
Panel 3: Regulating the Use of AI in Insurance – What should the industry expect?
The European Commission is proposing a cross-sectoral regulatory framework for AI that follows a similar structure to that for General Data Protection Regulation (GDPR). The proposal classifies AI applications based on their risk; debate as to whether AI applications in insurance are deemed low or high risk are ongoing. This panel will discuss the proposal as well as approaches taken in other jurisdictions. 
14:10–14:40
Keynote speech: Inflation and reinsurance  
14:50–15:55
Panel 4: Low Interest Rates and High Inflation – The short-term outlook
The gradual restart of the global economy during the pandemic has led to a surge in demand for goods, energy and raw materials. In combination with the continued disruption of supply chains, this has pushed inflation to multi-decade highs. Persistent, above-target inflation could lead to a major tightening of monetary policies and threaten economic growth. Although several central banks such as the FED hinted at raising interest rates in 2022, the extent of any hikes and their pace remain uncertain. What is the right approach? This panel will tackle some of these questions and look at what could go wrong, as well as the potential effects on insurers and the real economy.
15:55–16:00
Closing remarks
Dennis Noordhoek, Director Public Policy & Regulation, The Geneva Association