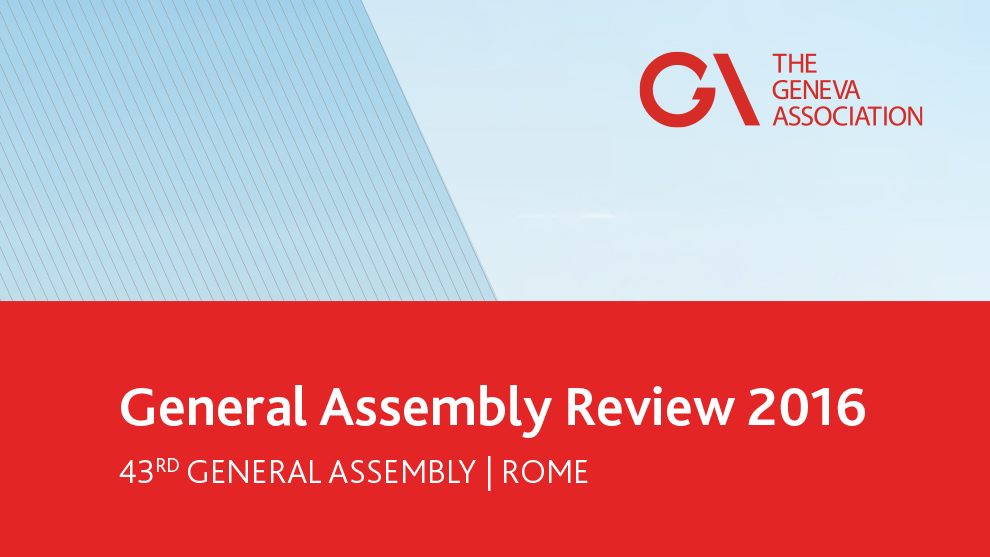 I am very pleased to present the review of our 2016 General Assembly in Rome. Our annual Assembly sits at the heart of The Geneva Association's work as a forum for the leaders of the world's foremost (re)insurance companies. It provides an exclusive opportunity for our Members to meet and interact with selected global leaders and experts on some of the key challenges and opportunities facing their businesses today.
We were pleased to welcome more than 50 Members at this year's Assembly to discuss challenges and opportunities in the areas of financial stability and regulation, disruption, extreme events and climate risk, cyber and geopolitics.
Our speakers included a Nobel Prize-winning economist, the Italian Minister of Finance and a former Prime Minister, as well as a current and former central banker, a national chief scientist and an array of some of the world's leading experts on the a.m. subjects.
This report provides a flavour of the insights discussed during our General Assembly. In addition, videos of the speeches given by Professor Robert C. Merton and Dr Robert Kaplan are available on our website and our YouTube
channel, alongside interviews with eight of our panellists, providing some of thehighlights of their sessions. On behalf of the Members and staff of The Geneva Association, I would like to thank the CEOs who acted as the anchors for our panel sessions for their work in preparing the discussions and bringing out the relevant insights for our industry. I want to extend my special thanks to Philippe Donnet of Assicurazioni Generali and Carlo Acutis of Vittoria Assicurazioni for their generous support and hosting of this year's tremendous programme.
I hope you enjoy the review.