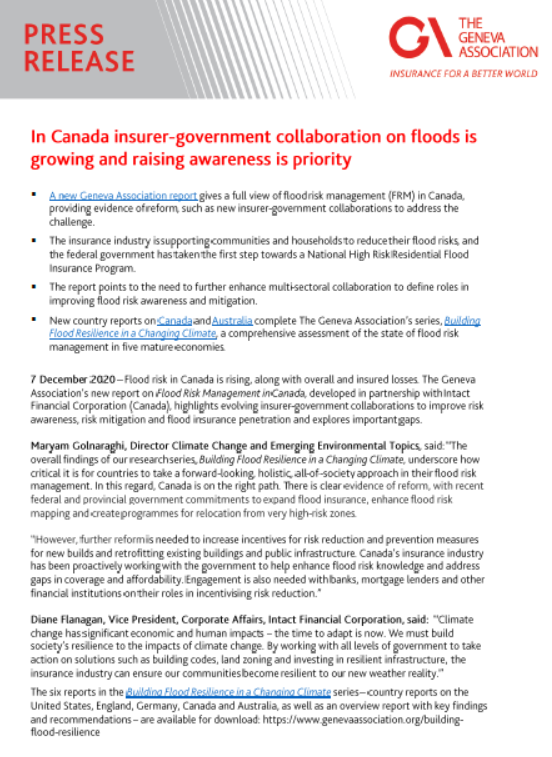 A new Geneva Association report gives a full view of flood risk management (FRM) in Canada, providing evidence of reform, such as new insurer-government collaborations to address the challenge.
The insurance industry is supporting communities and households to reduce their flood risks, and the federal government has taken the first step towards a National High Risk Residential Flood Insurance Program.
The report points to the need to further enhance multi-sectoral collaboration to define roles in improving flood risk awareness and mitigation.
New country reports on Canada and Australia complete The Geneva Association's series, Building Flood Resilience in a Changing Climate, a comprehensive assessment of the state of flood risk management in five mature economies.
7 December 2020 – Flood risk in Canada is rising, along with overall and insured losses. The Geneva Association's new report on Flood Risk Management in Canada, developed in partnership with Intact Financial Corporation (Canada), highlights evolving insurer-government collaborations to improve risk awareness, risk mitigation and flood insurance penetration and explores important gaps.
Maryam Golnaraghi, Director Climate Change and Emerging Environmental Topics, said: "The overall findings of our research series, Building Flood Resilience in a Changing Climate, underscore how critical it is for countries to take a forward-looking, holistic, all-of-society approach in their flood risk management. In this regard, Canada is on the right path. There is clear evidence of reform, with recent federal and provincial government commitments to expand flood insurance, enhance flood risk mapping and create programmes for relocation from very high-risk zones.
"However, further reform is needed to increase incentives for risk reduction and prevention measures for new builds and retrofitting existing buildings and public infrastructure. Canada's insurance industry has been proactively working with the government to help enhance flood risk knowledge and address gaps in coverage and affordability. Engagement is also needed with banks, mortgage lenders and other financial institutions on their roles in incentivising risk reduction."
Diane Flanagan, Vice President, Corporate Affairs, Intact Financial Corporation, said:  "Climate change has significant economic and human impacts – the time to adapt is now. We must build society's resilience to the impacts of climate change. By working with all levels of government to take action on solutions such as building codes, land zoning and investing in resilient infrastructure, the insurance industry can ensure our communities become resilient to our new weather reality."
The six reports in the Building Flood Resilience in a Changing Climate series – country reports on the United States, England, Germany, Canada and Australia, as well as an overview report with key findings and recommendations – are available for download: https://www.genevaassociation.org/building-flood-resilience
About Intact Financial Corporation
Intact Financial Corporation (TSX: IFC) is the largest provider of property and casualty (P&C) insurance in Canada and a leading provider of specialty insurance in North America, with over CAD$11 billion in total annual premiums. The Company has approximately 16,000 employees who serve more than five million personal, business and public sector clients through offices in Canada and the U.S.
In Canada, Intact distributes insurance under the Intact Insurance brand through a wide network of brokers, including its wholly-owned subsidiary BrokerLink, and directly to consumers through belairdirect. Frank Cowan Company, a leading MGA, distributes public entity insurance programs including risk and claims management services in Canada.
In the U.S., Intact Insurance Specialty Solutions provides a range of specialty insurance products and services through independent agencies, regional and national brokers, and wholesalers and managing general agencies. Products are underwritten by the insurance company subsidiaries of Intact Insurance Group USA, LLC.