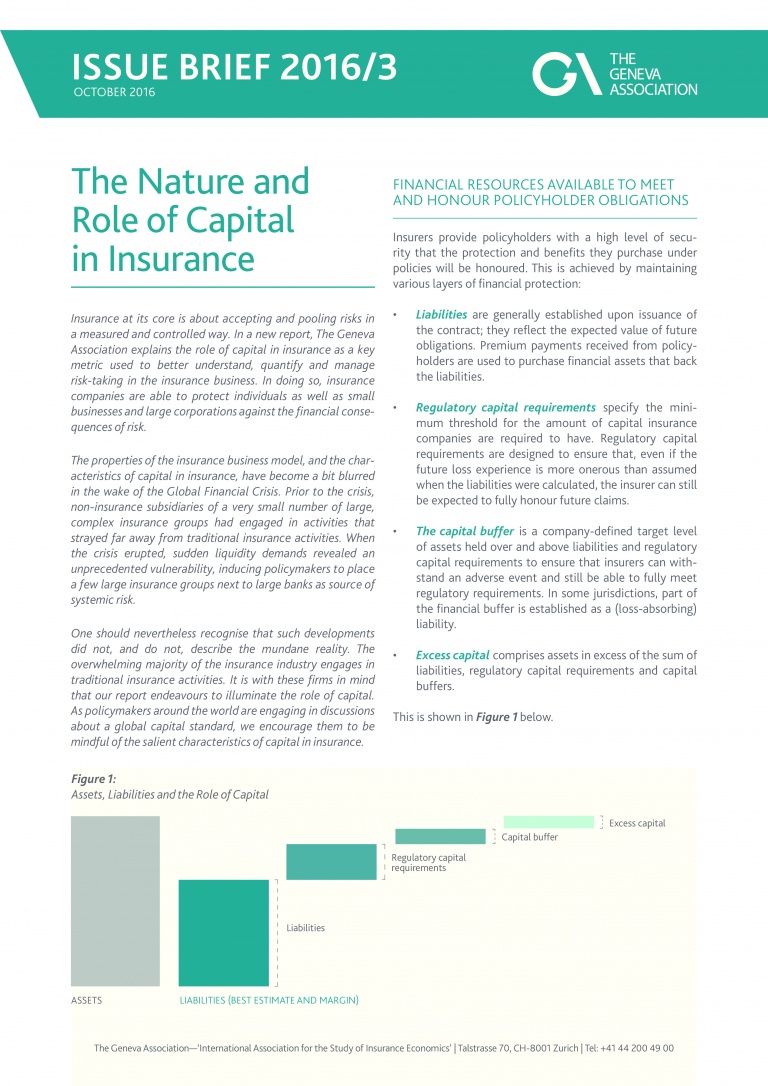 Publication Date: 4th November 2016
Insurance at its core is about accepting and pooling risks in a measured and controlled way. In a new report, The Geneva Association explains the role of capital in insurance as a key metric used to better understand, quantify and manage risk-taking in the insurance business. In doing so, insurance companies are able to protect individuals as well as small businesses and large corporations against the financial consequences of risk.
The properties of the insurance business model, and the characteristics of capital in insurance, have become a bit blurred in the wake of the Global Financial Crisis. Prior to the crisis, non-insurance subsidiaries of a very small number of large, complex insurance groups had engaged in activities that strayed far away from traditional insurance activities. When the crisis erupted, sudden liquidity demands revealed an unprecedented vulnerability, inducing policymakers to place a few large insurance groups next to large banks as source of systemic risk.
One should nevertheless recognise that such developments did not, and do not, describe the mundane reality. The overwhelming majority of the insurance industry engages in traditional insurance activities. It is with these firms in mind that our report endeavours to illuminate the role of capital. As policymakers around the world are engaging in discussions about a global capital standard, we encourage them to be mindful of the salient characteristics of capital in insurance.
Read the full White Paper: The Nature and Role of Capital in Insurance