The Geneva Association's 2022 Climate Change & Environment Conference, co-organised with Aviva, took place virtually on 3 November 2022, 14:00–17:00 CET; 13:00–16:00 GMT
Conference overview
Transitioning to a resilient carbon-neutral economy requires stepping up global financing of both climate mitigation and adaptation measures, with a more integrated approach. Insurers, as risk managers and investors, play a critical role.
Significant capital is needed for the large-scale deployment of new technological solutions to enable and expedite the decarbonisation of key sectors. Yet new technologies and infrastructure systems come with myriad risks that need to be assessed and managed with a full life cycle view, to attract large-scale capital.
On the other hand, acute and chronic physical risks of climate change are already more severe and widespread with significant impacts on people, communities, businesses and governments around the world. While investing in climate change mitigation is fundamental to keeping the cost of climate adaptation under control, this needs to be complemented with measures to reduce and prevent physical climate risks.
This conference explored innovative risk management solutions and the critical role of re/insurers within the complex ecosystem of public and private stakeholders to help expedite and scale-up climate action.
14:00–14:05
Welcome remarks
Maryam Golnaraghi, Director Climate Change & Environment, The Geneva Association
14:05–14:15
Opening address: Planning for the Transition: Our role in getting the world climate ready
14:15–14:35
Keynote speech: Challenges and Opportunities with Managing Risks Associated with a Low-carbon Transition

14:35–15:40
Panel 1: Managing Risks Related to Deploying Climate Technologies
New technologies and infrastructure systems are needed to transition energy and other carbon-emitting sectors and their value chains. Our ability to expand the scope of climate tech innovations and scale up deployment are critical to shaping sustainable economies and reaching net zero in the coming decades. New technologies come with untested risks that need to be assessed and managed with a full life cycle view. This panel will take a deep dive into the challenges and opportunities of the risk management and financing solutions needed, focusing on the role of insurance industry.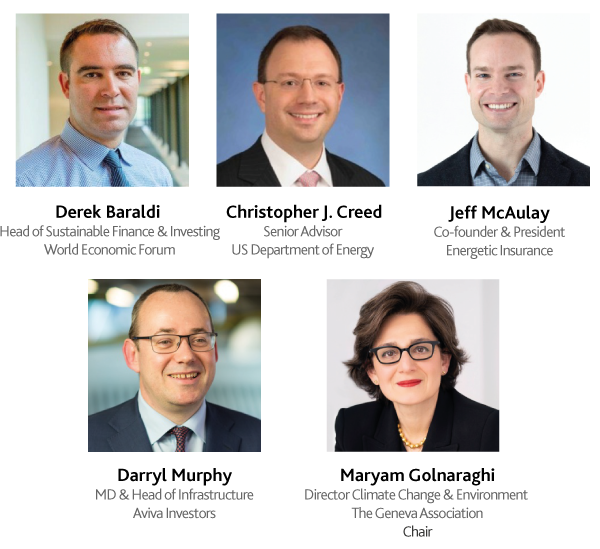 15:45–16:50
Panel 2: Long-term Insurability of Physical Climate Risks – Drivers, challenges and solutions
The socio-economic impacts of extreme weather events such as heat, storms, forest fires and floods (acute risks) and slow-changing trends such as sea-level rise and water scarcity (chronic risks) are escalating. These risks are exacerbated by the increasing concentration of people and assets in high-risk regions, aging infrastructure systems and vulnerabilities in supply chains.
This panel will explore factors that drive accessibility and affordability of insurance in light of rising physical risks. It will look at the importance of system-based approaches to risk assessment and pricing as well as ways to incentivise behavioural changes that lead to proactive risk reduction and prevention. The benefits of nature-based systems, strategic public-private partnerships and innovative insurance solutions (e.g. parametric insurance) are among the topics of discussion.


16:50–17:00
Closing remarks