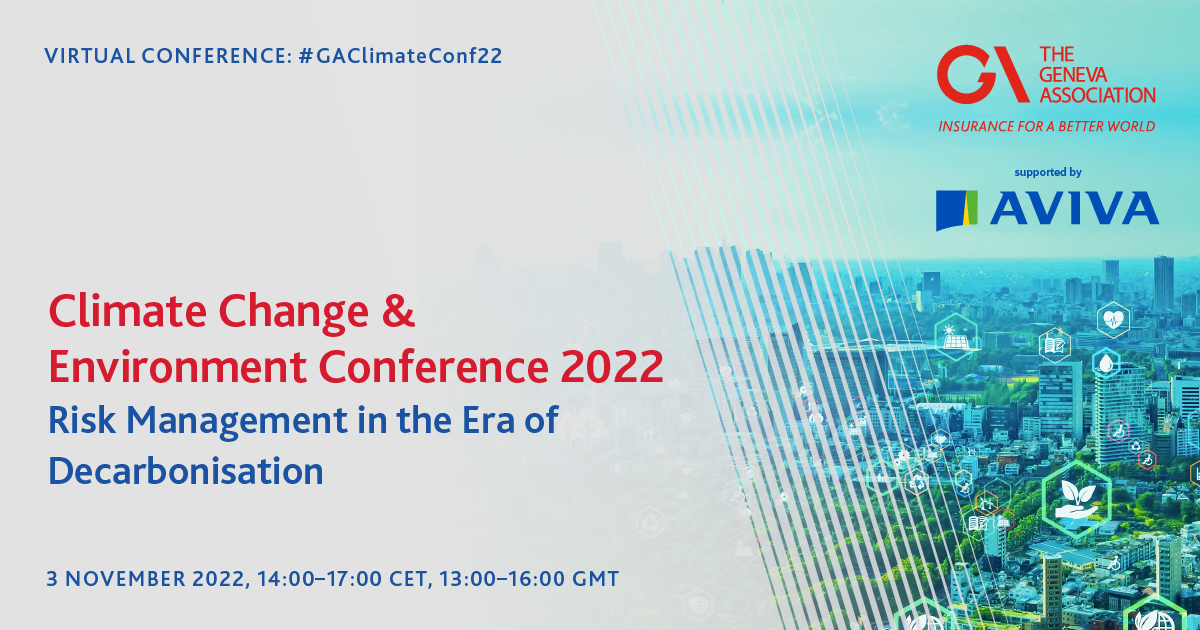 The Geneva Association's 2022 Climate Change & Environment Conference, co-organised with Aviva, will be held virtually on 3 November 2022, 14:00–17:00 CET; 13:00–16:00 GMT
Add to calendar
Conference overview
Transitioning to a resilient carbon-neutral economy requires stepping up global financing of both climate mitigation and adaptation measures, with a more integrated approach. Insurers, as risk managers and investors, play a critical role.
Significant capital is needed for the large-scale deployment of new technological solutions to enable and expedite the decarbonisation of key sectors. Yet new technologies and infrastructure systems come with myriad risks that need to be assessed and managed with a full life cycle view, to attract large-scale capital.
On the other hand, acute and chronic physical risks of climate change are already more severe and widespread with significant impacts on people, communities, businesses and governments around the world. While investing in climate change mitigation is fundamental to keeping the cost of climate adaptation under control, this needs to be complemented with measures to reduce and prevent physical climate risks.
This conference will explore innovative risk management solutions and the critical role of re/insurers within the complex ecosystem of public and private stakeholders to help expedite and scale-up climate action.
Programme
The conference will be moderated by Maryam Golnaraghi, Director Climate Change & Environment, The Geneva Association.
Wednesday, 3 November

14:00–14:05
Welcome remarks
Maryam Golnaraghi, Director Climate Change & Environment, The Geneva Association
14:05–14:15
Opening address
14:15–14:35
Keynote speech: Challenges and Opportunities with Managing Risks Associated with a Low-carbon Transition
14:35–15:40
Panel 1: Managing Risks Related to Deploying Climate Technologies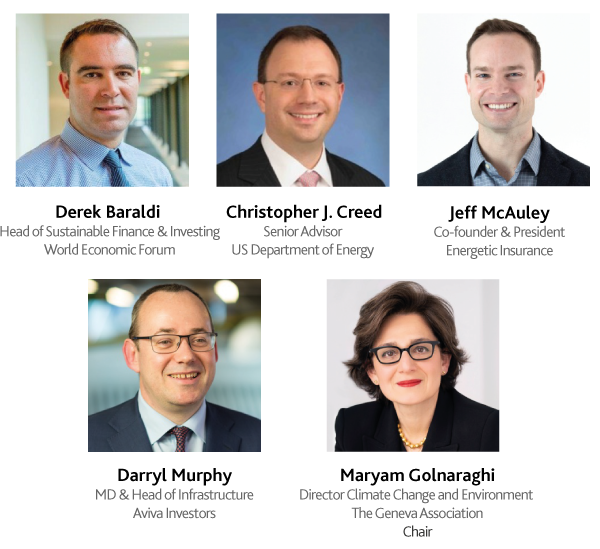 15:45–16:50
Panel 2: Long-term Insurability of Physical Climate Risks – Drivers, challenges and solutions

16:50–17:00
Closing remarks