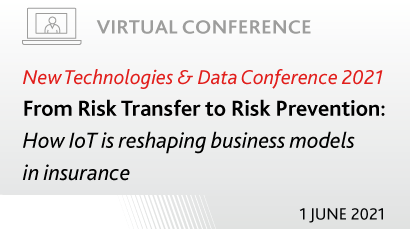 Event Information
From Risk Transfer to Risk Prevention –
How the Internet of Things is reshaping business models in insurance
Tuesday, 1 June 2021
14:00–16:30 CEST / 8:00–10:30 EDT
The virtual event is co-organised with Sun Life Financial

After registering you will receive an access link by e-mail. For the best experience, we recommend installing Zoom. However, you can also join via a web browser.
Important: Please check that your system allows participation in Zoom webinars.
From Risk Transfer to Risk Prevention – How the Internet of Things is reshaping business models in insurance
The amount of data being generated globally – much of it in real time – is increasing, fuelled by the expansive use of sensors and smart devices in almost all areas of life. A key driver of this development is the Internet of Things (IoT). For insurance companies, such data can provide valuable insights, with the potential to predict and prevent risks.
This conference will explore the megatrend of IoT-driven risk prevention services. It will look at their enormous potential to promote safer and healthier workplaces and lifestyles and examine the benefits to society as a whole. Discussions will also focus on enablers for the successful development of sustainable prevention services.
14:00–14:15
Welcome remarks
Conference moderator

Session 1: Life & Health Insurance
 
14:15–14:35
Keynote speech: Life and Health Models of Tomorrow – How IoT is changing the insurance business
14:35–15:15
Panel discussion: Insurers as Health Coaches – Promoting healthy lifestyles through IoT
15:15–15:20  
Break
Session 2: P&C Insurance
15:20–15:40
Keynote speech: Mastering Insurance IoT to Prevent P&C Perils
15:40–16:20
Panel discussion: New Strategies for Risk Prevention in P&C Insurance       
16:20–16:30  
Closing remarks
Isabelle Flückiger